Bullet Ballistics - totally free!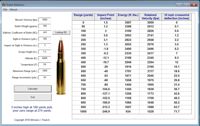 Bullet Ballistics will quickly and easily calculate bullet drop, retained energy, velocity and wind drift at any range and sight-in setting. Adjustments can be made for temperature, altitude, and scope height. Display bullet drop at any distance intervals and calculate impact points out to 2,000 yards.
Download Bullet Ballistics here.
Having trouble with the download? Click here to read about some roadblocks your browser may throw at you.

Click the image for a larger view
Song Director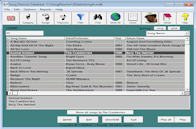 Song Director is free to use forever. It will find, catalog and organize all your music files, build and export playlists, and quickly locate and play any song you want. Full featured, no ads, no time limit, no restrictions other than stopping play at the end of each song. I'm hoping you'll donate $20 to remove this minor limitation, support my work, and receive good karma. If not, you can still use it for free to organize and play all your music.

Easier to use than iTunes or Windows Media Player, and much faster to find the music you want to play. Download Song Director and use it now; no questions asked!


Click the image for a larger view